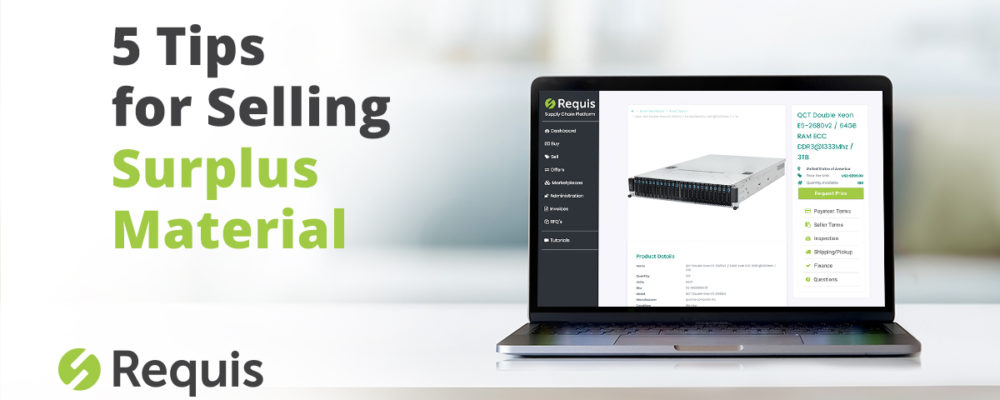 5 Tips for Selling Surplus Material
July 26, 2019 | Requis
Once you've made the decision to sell rather than to redeploy unused assets, the next challenge becomes maximizing your recovery.
While some businesses don't fully appreciate the earning potential of excess inventory sales, supply chain managers who are utilizing the services of Requis are finding strong recoveries that go straight to their bottom line.
So how do you get the best value for your surplus items?
1. Don't Delay
When you hold onto assets you know you're not going to use, is often a cost to you in both time and money:
Warehousing costs
Depreciation costs
Chance of damage
Material aging
Warehousing capacity and availability for other projects
There are many hidden costs as well – and one of the main benefits of disposition lies in simply avoiding the costs of storage.
2. Be Aware of Industry Trends and Demand
When it comes to pricing your assets, it's important to understand what your buyers are looking for, and price accordingly.
Different types of buyers will pay different prices depending on need, item condition, and other factors (like where the item is located, and what it will cost to ship or transport).
If you're selling surplus assets we will work with you on setting reachable expectations. Our in-house experts have years' of experience and can be your partner in understanding what your items are worth and how to price them effectively.
3. Provide Details, Data, and Photos to Increase Buyer Confidence
Companies want to know as much as they can about any assets they are considering. Providing supporting documentation is extremely helpful. Requis makes it easy to link to files like original vendor specs or other documentation, performance test results and/or certificates.
If your items are unused, Requis makes it easy to highlight this to buyers. For used items in good condition, it's easy to add notes about maintenance schedules or other efforts that have gone into the care of the asset.
We can tell you from experience that photos definitely help sell assets in all verticals. The photos don't have to be professional quality, they just need to be clear, well-lit pictures that help prospective buyers feel confident about the condition of the item.
The Requis sales team feels passionately about the importance of photos, we sometimes even take them for you (depending on location).
Photos are also important to show the buyer the exact condition of the asset to avoid any misunderstandings or last minute barriers to completing the sale.
4. Call on the Requis Sales Experts for Help
The Requis sales team is here to help you make a better sale. As mentioned above we can help advise on pricing, but on request we can actively market the items for you, reaching out to buyers who might be interested. We want to set you up for success!
We can advise you on whether or not your assets would do well as an auction. Large collections of items designed for use in a specific geographical region can do well in this type of sale.
The Requis sales team also provides essential after-sales support. We reach out to your buyer to for invoicing, tracking payments, and following up on release of funds and buyer pick up. We also mediate if there's ever a dispute.
If you need help, you can contact our sales team for advice.
5. Spread the Word
You can help items sell by using the Requis global platform, and even by sharing links on social media or by emailing potential buyers from your customer database.
Smaller companies are often in search of ways to save on second hand equipment, so don't leave them out. Don't forget to include the OEM if they buy back equipment for resale.
If your items are completely unused, that's a huge selling point – don't forget to mention that in your announcements.
Maximize Your Supply Chain Cost Recovery
The Requis community contains only qualified, vetted buyers and sellers from around the world. The system has an easy to use interface, and tools that make bulk uploading easy. Requis also have a team of experts ready to lend a hand to help make your sale happen.
It all adds up to a great way to get maximum value for your surplus assets – and save on maintenance and warehousing costs at the same time.