How Requis Drives Circularity Gap Closure
As humans continue to smash through our planet's safe environmental limits, The Circle Economy's 2023 Circularity Report acts as an urgent call for a change in global material consumption.  
Understanding Current Circularity Issues
After years of research, report authors offer several measures that act as circular solutions for creating a more sustainable environment. As organizations focus on the three principles—reduce, regenerate, and redistribute—that can bring a shared focus to business leaders and policymakers, it's essential to understand how we got here.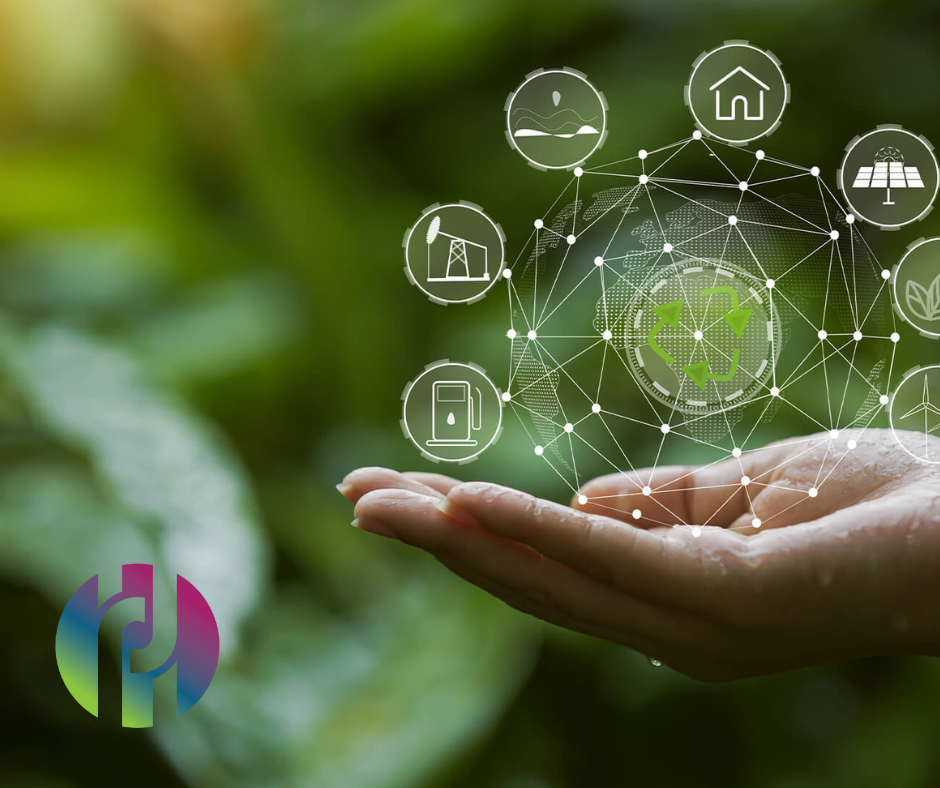 Present Consumption Models Are Not Sustainable 
To address why the current circularity gap has widened to a shocking 7.2%, it's necessary to accept some brutal truths: human beings have pushed well past the safe limits of our planet. 
It's no surprise that material usage and consumption activities are linked to climate change, chemical pollution, and the acidification of our oceans. What's more is that, according to the 2021 Circularity Gap, 70% of global greenhouse gas (GHG) emissions are tied to material handling use. 
We can only achieve a more circular economy by relieving these environmental pressures through a more efficient—and sometimes lessened—use of materials. 
Closing the Circularity Gap Requires Changed Attitudes and Actions 
Report authors place great importance on the attitudes and standards held by those in both private and public sectors and how they can enact change regarding material consumption. 
Entire industries and individual organizations need specific policies to support the transition to more sustainable operations. In doing so, they can better minimize material use, prevent material loss, and give the planet time to regenerate.  
So how are organizations meant to balance human needs and consumption with the ethical responsibility to respect planetary boundaries and achieve desirable bottom lines? 
Steps for Transforming into a Circular Organization 
Making the shift toward becoming a more circular, sustainable organization is not one that is completed overnight. However, taking small but actionable steps can help you integrate circularity into your procurement practices at scale. 
Make Circularity a Priority

: Consider circular design and operations as you begin a project, influencing organizational action moving forward.

 

Implement Clear Communication

: Establish cooperation processes and emphasize sustainability measures to ensure team continuity.

 

Capture Asset Information

: Gather details on materials you plan to use to ensure a long operational life cycle.

 
Beyond taking these measures, the answer to building a more circular economy is leveraging the right technology. 
Innovative e-Commerce Technologies are Part of the Solution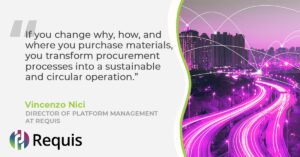 E-commerce technologies will be vital in working to close the global circularity gap.  
As Vincenzo Nici, Director of Platform Management at Requis, says, "If you change why, how, and where you purchase materials, you transform procurement processes into a sustainable and circular operation."   
Forward-thinking leaders must leverage B2B technologies that transform procurement processes, provide supply chain solutions, and reuse materials.  
Requis—the only platform entirely focused on capital procurement projects and energy industries—offers a solution featuring several capabilities that make it easier for businesses to participate in the circular economy.  
Available in several countries and used by organizations of all sizes, Requis has closed the circularity gap by allowing businesses to sell, buy, and trade used goods—enabling the reduction of waste and pollution while simultaneously saving organizations money.  
The platform offers these capabilities in numerous ways: 
Improved Intelligence 
Requis removes information silos to increase users' transparency and accuracy on equipment availability, sales, and shipping. This way, procurement professionals have more flexibility when making critical business decisions regarding sustainability. 
Carbon Tracking 
Procurement has a unique opportunity to influence net-carbon-zero programs. Requis' NetZero platform connects to Environmental, Social, and Governance (ESG) scores, dashboards, and analytical solutions, allowing organizations to integrate carbon tracking and accounting with automated carbon emission calculation and offsetting.   
Additionally, the Requis platform provides companies with a secure marketplace to purchase credible carbon credits and balance GHG emissions. 
Asset Visibility 
By leveraging Requis' Asset Visibility and Operator-to-Operator platforms, buyers and sellers achieve full transparency of supply chain and procurement data.  
Asset Visibility Platform: The Asset Visibility Platform provides a central repository for asset information, including location, condition, and availability. This information is accessible to both buyers and sellers, which helps to facilitate the transfer of assets.

 

Operator-to-Operator Platform: The Operator-to-Operator Platform is a secure environment for directly transferring assets between operators. This platform eliminates the need for third-party intermediaries, which can save time and money.

 
Acting as secure environments for new and surplus materials, these platforms help close the circularity gap by bringing new life to surplus, used, and obsolete assets while connecting users with procurement and disposition options. 
Technology Capabilities Above the Rest 
Over 10,000 registered users from 60 countries are actively procuring and selling oil and gas assets on the Requis platform.  In addition to improved UX and performance, Requis users can also expect the following: 
Rapid ROI 
Implementing best-in-breed software directed to a select user group requires fewer training and support resources than a company-wide technology rollout. This means less software deployment time is needed, leading to more productive users. The software pays for itself. 
Greater End-User Technology 
The Requis software has a narrow application customized to meet the user group's needs. A user-friendly interface ensures quick acceptance and higher user buy-in. 
An Expert Solution 
There is no "fluff" in a best-of-breed solution. It is, simply put, the best available technology to solve a specific problem or perform a niche task. 
Rapid Innovation 
Due to the extremely narrow focus of best-of-breed software, updates and changes are incorporated quickly, reducing risks or exposure for your company. Such agility is critical, especially in inventory and supply chain management. 
Smooth Integration 
Because the flexibility of Requis' software supports integration with other best-of-breed solutions and enables the connection of multiple systems, users are not locked to a single-vendor condition. 
Requis: The Circular Economy Marketplace for Oil and Gas 
Requis is the largest circular economy marketplace for the energy and resources industry. We connect buyers and sellers of new and surplus materials and equipment, helping to close the circularity gap and reduce waste. With over 10,000 registered users from 60 countries, we provide a secure environment for the transfer of assets, with buyers and sellers having full transparency on supply chain and procurement information. 
If you're looking for a way to reduce waste, improve sustainability, and streamline your procurement processes, contact Requis today.